HNC Cyber Security validation event
The validation event for the new HNC Cyber Security was held on Friday in the Grand Central Hotel in Glasgow. The event was the culmination of a year of intense work to produce a new qualification in this important field. The purpose of validation is to scrutinise a new qualification by a panel of independent experts. The panel consisted of representatives of industry, education and SQA.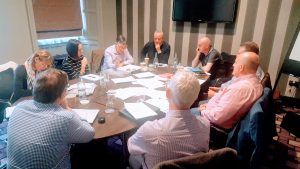 The event went well. The proposed qualification was validated with a few conditions and recommendations, which we will be working on over the coming weeks. The qualification team felt that these changes will improve the award. None of the changes should take long to implement so I'm hopeful that the conditions will be lifted in June and the qualification available to centres from July. The structure of the qualification was approved without change but we still have to finalise some of the units, which we're working on right now.
I know some centres plan to offer the award next session so we will be sure to have it operational as soon as possible. Please contact Emma if you want to know more about this award or the progress we're making towards validation.
I'd like to thank the validation panel and, especially, members of the Qualification Development Team for their hard work in bringing the new qualification to its current stage.