External Verifier standardisation meeting
The annual standardisation meeting for External Verifiers (EVs) took place today in the SQA offices in Glasgow. The meeting was led by the Senior External Verifier.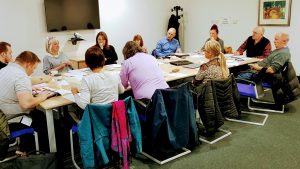 The purpose of the meeting is to prepare EVs for their forthcoming visits to centres and to ensure that the whole team apply the same national standards.
Me and my team attend these meetings for two reasons. Firstly, to find out more about field issues and also to update EVs about new and revised qualifications so that they know what to expect when they visit centres. I took the opportunity to update the team about new qualifications in cyber security, the review of HN awards and the progress with the NPA Data Science.
The team is made up of practising school teachers, college lecturers and trainers. We're always looking for new people to join the team, particularly practising teachers and trainers. Please contact Appointee Management if you want to know more about becoming an External Verifier. It's a really interesting role – and great CPD.