EV meeting
Once a year, the External Verifier (EV) team, led by the Senior External Verifier, meet to ensure that they all apply the same standards when they visit centres. There was a "standardisation" meeting in Glasgow today.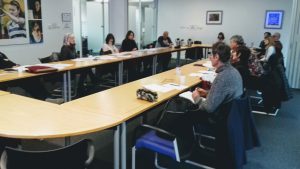 Me and my team attend these meetings to provide an update on the qualification developments that have taken place over the last year so that the EVs are aware of these changes – and what they might face when they visit centres. It's always a good, productive meeting and today was no exception.
The current EV team is an experienced (and friendly) mix of teachers, lecturers and trainers. We've recently added a few new EVs to the team and today was especially useful to them. We're always looking for new verifiers so drop me a line if you're interested in joining the team. It's an interesting (and paid) job that gives you a unique insight into national standards and how these are applied in centres (some of which are abroad).