Unit writing for HNC Cyber Security
The team that will be responsible for writing the units that are part of the new HNC Cyber Security met yesterday in Glasgow. There are 19 people in the team, with a good mix of the new (to unit writing) and the experienced. There is also an interesting mix of backgrounds – including people from the school and training sectors (as well as, of course, the college sector). I was particularly pleased to see school teachers get involved in the development of HNCs.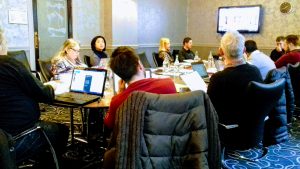 The team will be responsible for writing new units in a number of areas such as:
Social Engineering
Internet of Things
Penetration Testing
Scripting for Security
Securing Network Devices.
Yesterday's event served two purposes: (1) to train the writers; and (2) to get the writing process underway. I thought that the event went well. The team seems enthusiastic and keen to get down to work.
Please contact Helen for more information about this development.