National Certificate in Computer Games Development
The validation event for the revised NC Computer Games Development took place on Friday in the Grand Central Hotel in Glasgow. The purpose of validation events is for independent experts to check new (or revised) qualifications to make sure that they are fit for purpose.
The validation panel comprised representatives of colleges, industry, training centres and SQA. The development team was represented by the Lead Developer, a college member of the QDT, Emma and me. I thought that it was a particularly good event with really positive suggestions for improvement.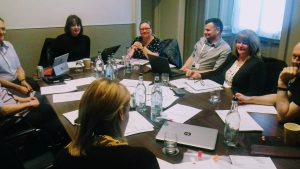 The outcome of the validation was that the revised qualification was validated subject to one condition and some recommendations. The condition involves making computer programming mandatory at Level 6 (it's already mandatory at Level 5). The development team agreed that this would be a positive change.
We will now make a few changes to the Group Award Specification (GAS) to reflect the condition and recommendations, and resubmit the GAS for approval. We don't think that that will take long so we expect the revised qualification to be available to centres from July. If you're considering offering the revised award next session (from August) please contact Emma, who will be able to help you prepare.