Digital Skills Partnership event
I attended the Digital Skills Partnership (DSP) event on "Data Science, machine learning and AI" at City of Glasgow College last week.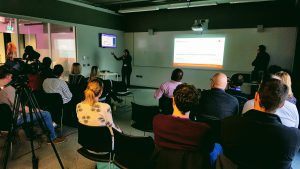 The DSP is a new collaboration between universities and colleges to provide CPD to lecturers in Computer Science. The Chief Technology Officer of an informatics company gave an interesting talk about how business can use data science and AI, and also discussed how things are likely to develop in the future. There was a good attendance at the event (mostly from universities) and I personally learned a lot.
SQA has a number of qualifications in the fields of data science and AI. The HNC Data Analytics was recently launched and we have HN units in Big Data, Data Science and Artificial Intelligence. Please contact Helen if you want to know more about these awards.