Computing Conference
The annual Computing Conference took place on Friday at the Radisson Hotel in Glasgow. There was a good turnout, with over 50 people in attendance. I was pleased to see so many teachers find time to attend, perhaps reflecting the growing importance of vocational Computing awards in Scottish schools.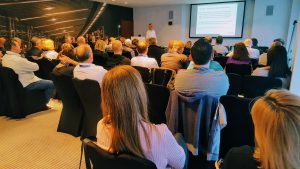 The event was a mix of information, updates and keynotes. They keynotes were particularly well received. This year they covered the future of assessment and the importance of coding in schools. Two lead developers provided updates on their respective projects – one from the person leading the development of HNC Cyber Security and one from the person leading the development of the support materials for NPA Cyber Security.
Me and my team gave updates on past, present and future qualification developments such as the recently introduced HNC/D Technologies in Business, the on-going review of HND Computer Science and the imminent review of HNC/D Computing (more of which in future posts).
We'll be formally reviewing the event in the next few days but my impression was that people enjoyed it. Please contact Helen for more information about the conference.